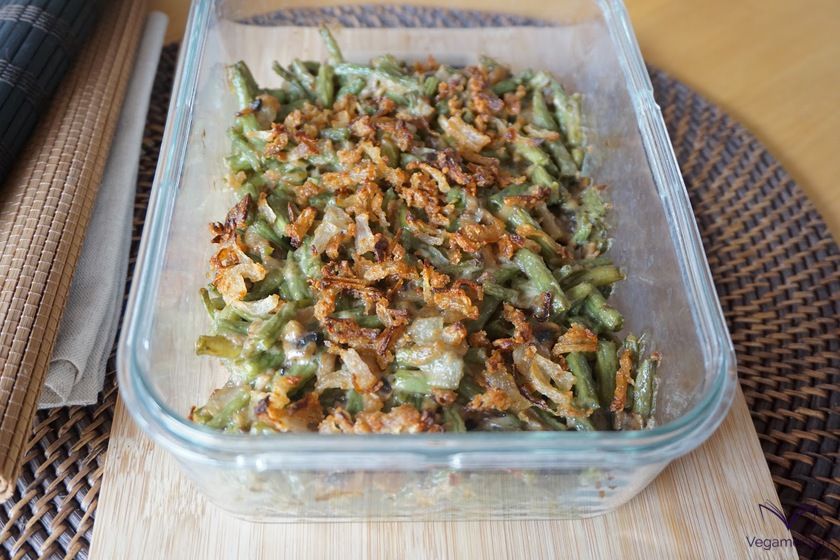 Since the recipe was introduced and popularized by the Campbell company in the 1950s (when it and other companies in the sector began to accompany their products with recipes in which consumers could use them), the Green Bean Casserole has become a must-have for 'Thanksgiving' dinner in millions of American homes, where it is served as a special side dish every last Thursday of November.
This 100% vegetable version is a creamy recipe, with an exquisite flavor and with tasty nuances, since fried onion, one of its main ingredients, gives it a sensational touch, with its crunchy texture and that salty and sweet touch at the same time. It is also a very easy dish to make, so it is perfect to enjoy a unique and festive dish without having to spend too much time in the kitchen or carry out complicated steps.
This delicious garnish is the ideal way to incorporate green beans to our menu and thus benefit from all the nutrients that it provides, among which fiber, potassium, silicon, beta-carotene, vitamin C and vitamins of group B (especially vitamins B6 and B9 or folic acid).
As a whole, it is a juicy dish, free of cholesterol, free of lactose and loaded with nutrients such as flavonoids, fiber, allicin, alliin, isoflavones, protein, lecithin, carbohydrates, beta-carotene, vitamins C, E and group B ( B2, B3, B6 and B9 or folic acid), sulfur, calcium, phosphorus, magnesium, manganese, potassium, selenium, silicon, sodium and, to a lesser extent, copper, iron and zinc.
If you want, although the classic recipe does not include it, you can add a little cashew parmesan on top to enhance its flavor even more. This one adds a delicious touch.
Below you can see what ingredients you need and the steps to follow to be able to make this creamy and restorative mash so simple and easy to prepare.
| | | |
| --- | --- | --- |
| Difficulty level | Preparation time | Rations |
| Easy | 1 h. | For 2 people |
Ingredients
400 gr. green bean (fresh)
1 onion
100 gr. mushroom
1 garlic clove
2 tablespoons whole wheat flour
200 ml. soy milk (sugarfree)
1/2 teaspoon salt
1/4 teaspoon pepper (ground)
3 tablespoons extra virgin olive oil
Instructions
Wash the green beans, cut the ends, cut them into pieces of about 3 cm., approximately, and steam them for 15 minutes. After this time, remove from the fire and set aside.
Peel the onion and cut it into small pieces. Set aside.
Peel the garlic and grate it. Set aside too.
Wash the mushrooms and drain them well, cut them into small pieces and set aside.
Preheat the oven to 180º and, meanwhile, put to heat the oil in a wide frying pan. When the oil is hot, add the onion and let it cook for 2 minutes.
After this time, add the mushrooms and cook them for 5 minutes, stirring from time to time.
After this time, add the garlic, stir and let cook for 3 minutes.
Next, add the flour and the soy milk, stir so that all the ingredients are well integrated and let cook everything for 5 more minutes.
After this time, add the salt, pepper and half of the crispy French fried onion. Stir well and remove from the fire.
Put the beans in the pan where the rest of the ingredients are and mix well. Next, transfer the mixture to a baking dish, add the rest of the crispy French fried onion on top, put the baking dish in the oven and bake for 20 minutes at 180º. After this time, remove the dish from the oven and serve.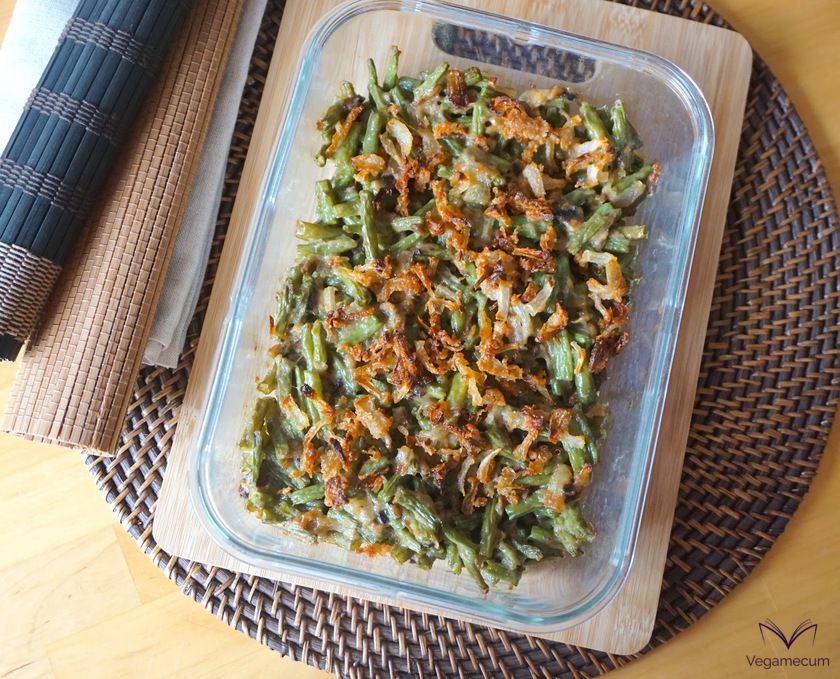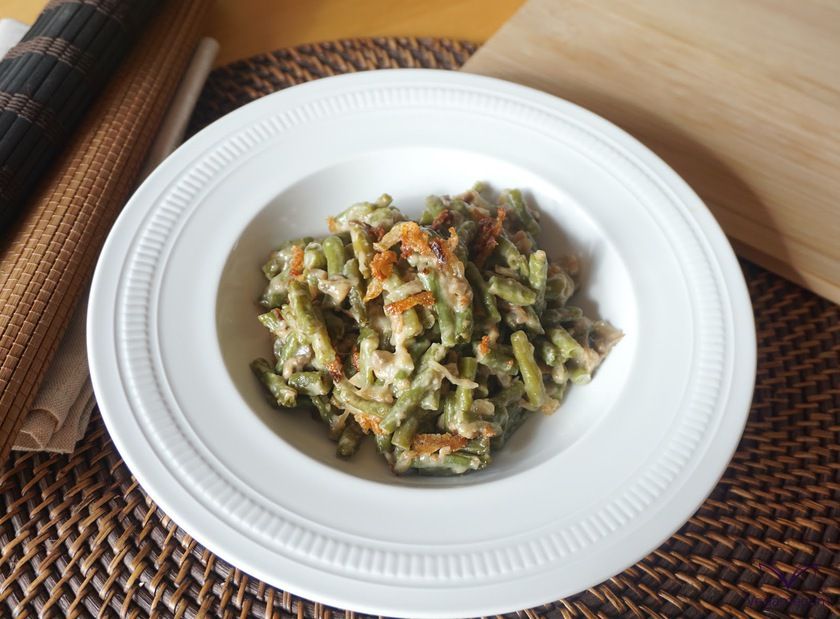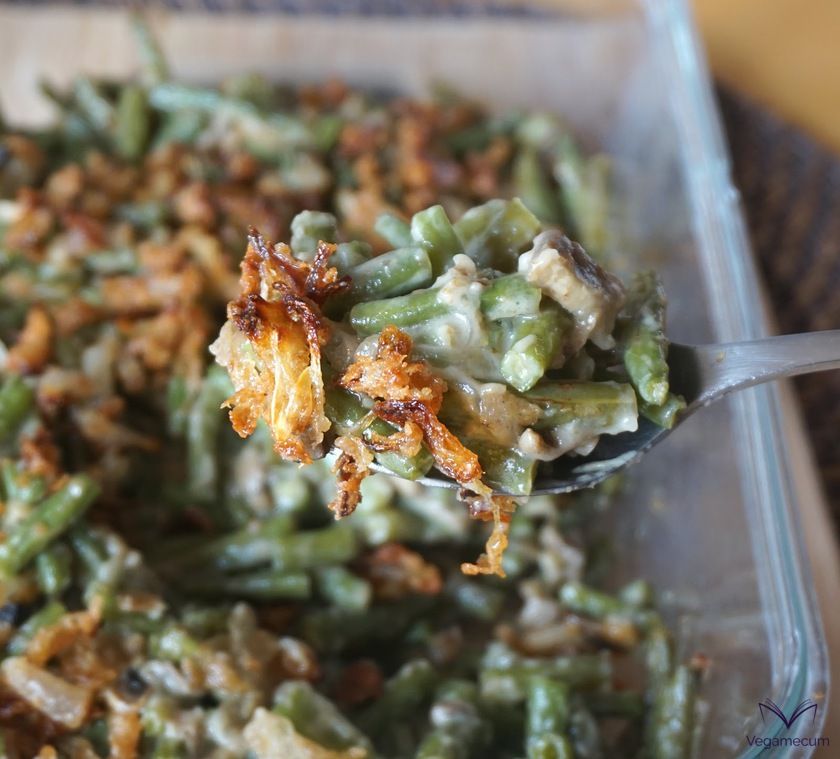 Notes
You can also use frozen green beans, which will save you time when preparing the recipe.
If you prefer, you can substitute soy milk for unsweetened almond or cashew milk.
To steam the beans, you can do so by filling a pot with water and placing a strainer on top with the beans, without it touching the water.
If you want, although the classic recipe does not include it, you can add a bit of anarcado Parmesan to enhance the flavor even more. This one adds a delicious touch.
If you have any questions, you can leave it to us in the comments. And if you dare and want to show your creations to the world, do not hesitate to label us, we will love to see them through the networks!
Do you join us on social networks? You will find us on Facebook, Twitter, Instagram and Pinterest!