Milanesas are a very popular dish of Argentine origin, where since 2012 they even have their own day on the calendar: May 3. Thus, this is the ideal day to publicize and promote vegan milanesas, which, as they are made exclusively with ingredients of plant origin, are delicate in taste, cholesterol-free, sustainable and kind to the planet and, above all, to the animals.
These vegan milanesas are very tender fillets, especially if, as in this case, they are made with fluffy seitan that, in addition, absorbs the flavor of the seasonings very well due to its mild flavor, as it is very neutral and allows perfectly penetrate the seasonings that are added. This makes its flavor very tasty, as it highlights the delicate mixture of garlic and parsley with which the batter is made, which provides an irresistible toasted, tasty and crunchy touch.
At a nutritional level, these vegan Milanese are rich in protein , fiber , lecithin , inulin , alliin , flavonoids , terpenoids , carbohydrates , vitamins A , C and B6 ; calcium , phosphorus , iron , magnesium , potassium, and selenium .
Below you can see what ingredients you need and the steps to follow to be able to easily make delicious vegan Argentinean Milanese.
| | | |
| --- | --- | --- |
| Difficulty level | Preparation time | Rations |
| Easy | 30 m. | For 3 people |
Plus 30 minutes of rest
Ingredients
200 gr. breadcrumbs
2 garlic cloves
2 tablespoons parsley (chopped)
1/2 teaspoon pepper (ground)
6 tablespoons Yolanda flour
100 ml. water
1 pinch of salt
extra virgin olive oil (to fry)
Instructions
Cut the seitan into 1 cm thick fillets. Set aside.
Peel the garlic cloves, chop them and put them in a bowl together with the Yolanda flour, the water, the salt, the pepper and the finely chopped parsley and stir everything until obtaining a homogeneous mixture without lumps.
Put the seitan fillets in the bowl and let it rest for 30 minutes so that it takes in the flavor.
After this time, put the breadcrumbs on a plate and pass the fillets through the bread, tapping the fillets so that the bread adheres well and they are well breaded.
Heat the oil in a large frying pan and, when it is hot (without smoking), add the fillets in batches so that they are covered in the oil and fry well. When they are browned on one side, turn them over so that they browned on the other side and, when they are browned on both sides, put them on a plate covered with absorbent paper to remove excess oil. When they have released all the excess oil, serve them.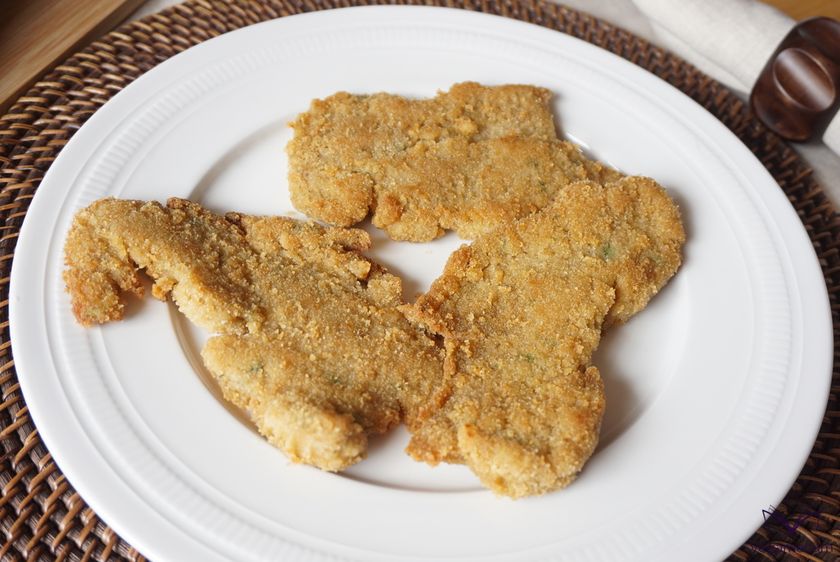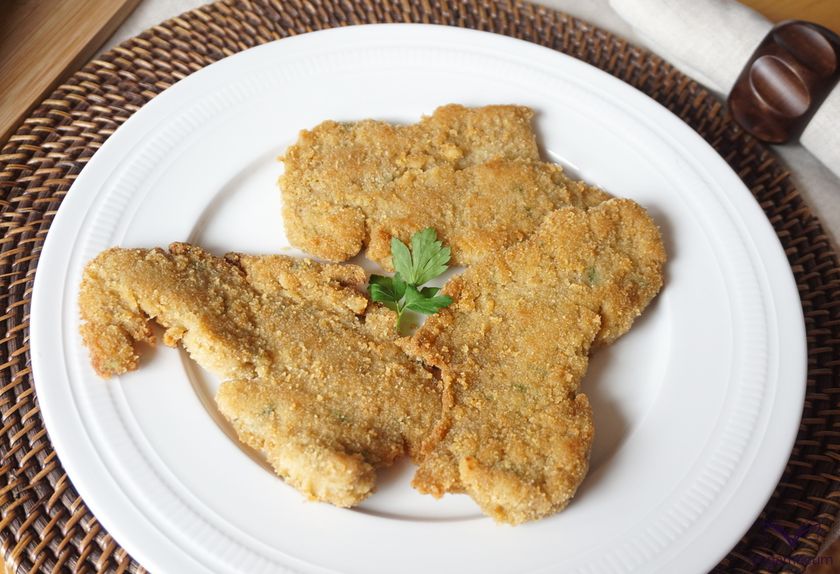 Notes
If you have any questions, you can leave it to us in the comments. And if you dare and want to show your creations to the world, do not hesitate to label us, we will love to see them through the networks!
Do you join us on social networks? You will find us on Facebook, Twitter, Instagram and Pinterest!