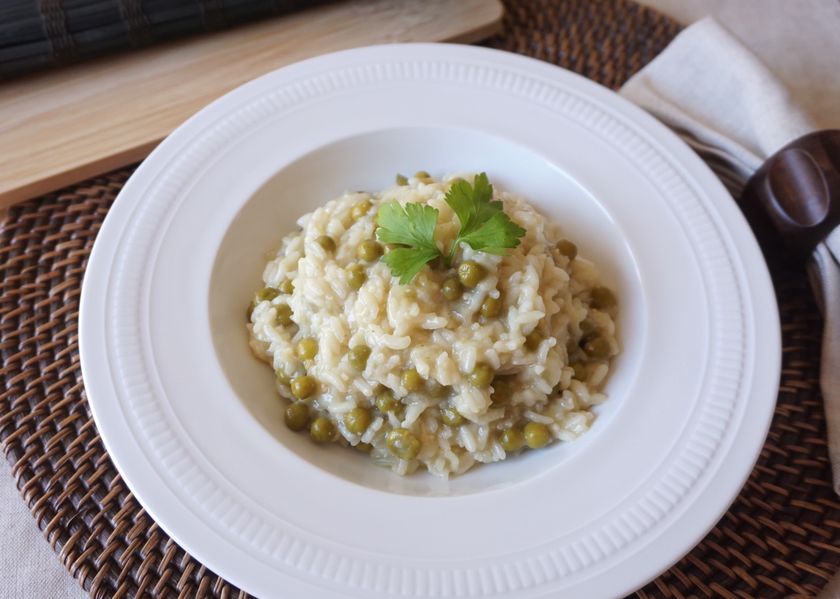 The 'Risi e Bisi' (Rice and Peas) is a traditional dish from the Italian region of Veneto, where it is consumed especially for the 'Festa di San Marco', which is celebrated on April 25.
It is a recipe that is very reminiscent of risotto but with a slightly more soupy texture and a bit simpler and easier to prepare, what makes it perfect to enjoy a different rice dish without having to invest too much time and effort.
It is a very complete dish thanks to the mixture of rice (cereal) and peas (legume), a combination that forms complete proteins, with all the necessary amino acids.
If we analyze it in more detail, this vegetable version is free of cholesterol and rich in carbohydrates , complete proteins , allicin , alliin , flavonoids , fiber , lecithin , phytosterols , tryptophan , isoflavones , omega 6 and omega 9 fatty acids, terpenoids , vitamins A , C , E and from group B ( B1 , B2 , B3 , B5 , B6 and B9 or folic acid ); sulfur , calcium , copper , chromium , phosphorus , iron , lithium , magnesium , manganese , molybdenum , potassium , selenium , sodium , vanadium and zinc .
Below you can see what ingredients you need and the steps to follow to be able to make a delicious and vegan version of this original rice.
| | | |
| --- | --- | --- |
| Difficulty level | Preparation time | Rations |
| Easy | 1 h. | For 4 people |
Ingredients
350 gr. rice (variety ribe or carnaroli)
3 tablespoons extra virgin olive oil
1 onion
2 garlic cloves
250 gr. peas
1 y 1/2 l. vegetable broth
1 teaspoon salt
1/2 teaspoon pepper
40 gr. non-hydrogenated margarine
Instructions
Finely chop the onion and grate the garlic.
Put the oil to heat in a saucepan and, when it is warm, add the onion and let it poach over medium heat for 5 minutes.
Next, add the garlic and let it sauté for a couple more minutes.
After this time, add the rice, stir together with the onion and garlic and let it cook for 1 minute.
Then add the broth, salt and pepper and, when it starts to boil, lower the heat to medium-low and let it cook for 15 minutes, stirring frequently.
After this time, add the peas and let them cook together for 10 more minutes, until the rice is cooked, stirring frequently.
When the rice is cooked, remove from the heat, add the vegan parmesan and margarine and stir carefully so that everything is mixed evenly. When all the rice has taken on the flavor evenly, serve it.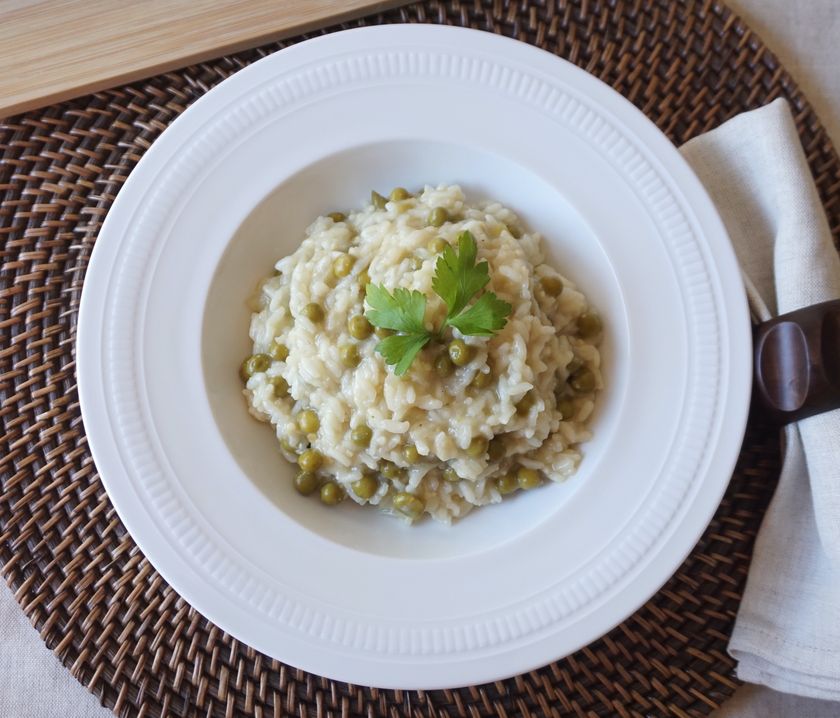 Notes
The ideal rice for this recipe is ribe rice or carnaroli rice, but arborio rice or vialone nano rice would also work since all of them are the varieties with the highest starch content.
If you use frozen peas, you should add them to the casserole at the same time as the rice or thaw them beforehand.
When selecting vegetable margarine, make sure that it is not hydrogenated and that it does not contain palm oil or any ingredient of animal origin (some may contain gelatin among its ingredients).
If you have any questions, you can leave it to us in the comments. And if you dare and want to show your creations to the world, do not hesitate to label us, we will love to see them through the networks!
Do you join us on social networks? You will find us on Facebook, Twitter, Instagram and Pinterest!