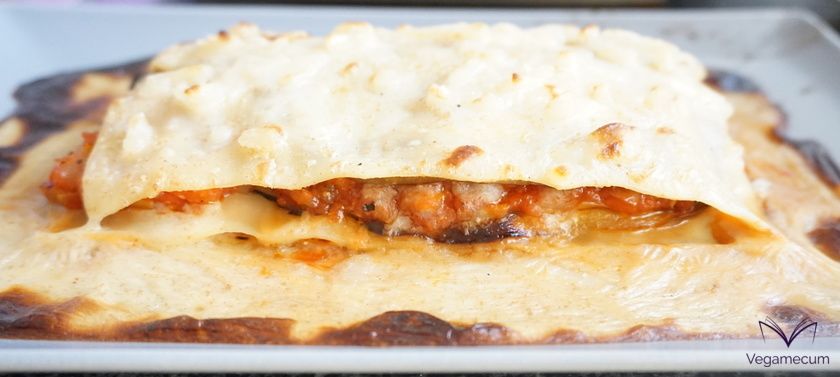 Lasagne is one of the dishes that has the most fans, although it is also the most filling, so if you want to leave space for a second dish, this eggplant, leek and tomato lasagna is a great option.
And it has very few ingredients that, although full of flavor and with a very characteristic touch each one of them, are very light, what makes that, although the dish is formed by plates of pasta and covered with delicious bechamel, not we feel so bloated.
Eggplant , leek and tomato , make this lasagna rich in fiber and flavonoids , in vitamins A , C and group B ( B1 , B2 and B9 or folic acid), phosphorus , potassium , selenium , zinc and, in minor quantity, iron and calcium .
These nutritional properties give this dish a high antioxidant power that will help us to prevent cell degeneration, which also contributes its content in glutathione and lycopene , which include, in addition, its antidepressant and anticancer properties and its ability to stimulate formation of new bone tissue.
Below you can see what ingredients you need and what steps you have to follow to enjoy this dish 😉
| | | |
| --- | --- | --- |
| Difficulty level | Preparation time | Rations |
| Easy | 1 h. | For 2 people |
Ingredients
1 medium eggplant
1 Leek
1 onion
2 ripe tomatoes
6 precooked lasagne pasta plates
4 tablespoons extra virgin olive oil
40 gr. grated vegetable cheese
1 pinch of salt
Instructions
Remove the skin of the eggplant, make thin slices and put them half an hour on a surface with salt to release the bitterness.
We wash the leek well to remove the earth that it may have and cut it very often, together with the onion.
Pour the oil in a pan and, when it is warm, put the leeks and onions to poach over a low heat to avoid the leeks burning.
When the leeks and onions are poached, add the tomatoes cut into pieces and without seeds, stir and let it be done little by little. Add a little salt and, when the tomato is ready, turn off the heat and reserve.
In a pan, put water to heat and pour a splash of oil and a little salt. When we see that the water is hot (without it coming to boil), we put the sheets of pasta to make the lasagna and let them soak for 20 minutes so that they soften.
When they have spent the 30 minutes that the aubergines had to rest, we clean them well to remove the salt, dry them to eliminate the water they have released and put them in a pan with a few drops of oil to make them grilled, trying not to they are very toasted so that they do not bitter. When they are at their point, we put them on kitchen paper to remove the excess oil.
On a baking tray, we put some béchamel in the bottom and we are ready to assemble the lasagna. Drain the slices and put the first on the béchamel sauce that we have put in the bottom of the tray, then put a sheet of eggplant and, on this, we put part of the leek, onion and tomato sauce that we had set aside. Above, we put another sheet of pasta and fill in the same way (eggplant sheet and over fried) and finish with another sheet of pasta.
Preheat the oven to 200º while covering the lasagna with the béchamel and add the grated vegetable cheese. When the oven is hot, we put it in it and bake until we see that it takes a golden tone. We remove from the oven and emplatamos.
Notes
We recommend using pear-type tomatoes because they have a lower degree of acidity and will leave a softer and sweeter taste.

.

If you do not want to use pasta made with wheat flour, you can use pasta made with rice flour and corn or spelled.
When buying lasagna plates, make sure they do not carry eggs among their ingredients.
In case the lasagna plates are not pre-cooked, they should be boiled in boiling water for 12 to 15 minutes.
If you have any questions, you can leave it to us in the comments. And if you dare and want to show your creations to the world, do not hesitate to label us, we will love to see them through the networks!
Do you join us on social networks? You will find us on Facebook, Twitter, Instagram and Pinterest!