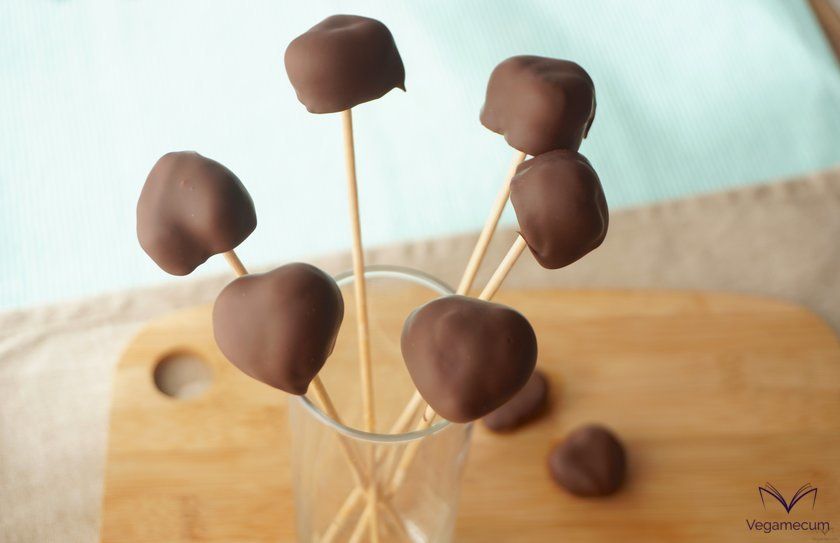 These chocolates are a healthy dessert and ideal for a special occasion or for a sweet treat.
Its filling of peanut butter and date caramel is super tender and, in addition, free of sugar, since the first has only toasted peanuts, and the caramel is made only with dates.
The cover, on the other hand, being sugar-free chocolate fondant, creates a dense and malleable layer free of harmful sugars that provides an absolutely irresistible contrast with peanut butter and caramel.
But besides sugar-free, these chocolates are very easy to prepare, they are made with very few simple ingredients and, since they do not contain dairy products, they do not contain lactose, casein or any animal fat, since chocolate fondant is a chocolate made from cocoa butter and cocoa paste.
Being a pure cocoa chocolate, it gives us energy , antioxidants that do not carry animal milk, are maintained and are not counteracted; phenylethylamine that produces emotional well-being, phosphorus , magnesium , potassium and selenium .
Peanut butter, meanwhile, is rich in protein , fiber , antioxidants , vitamins C , D , K and group B ( B1 , B2 , B5 and B9 or folic acid ), calcium , phosphorus , iron , magnesium , potassium , sodium , iodine and zinc .
Dates also provide carbohydrates , tryptophan , fiber , vitamins B3 and B5 , calcium , copper , phosphorus , magnesium and potassium .
Below you can see what ingredients you need and the steps to follow in order to make these healthy and protein filled chocolates.
| | | |
| --- | --- | --- |
| Difficulty level | Preparation time | Rations |
| Easy | 30 m. | For 15 units |
* Plus 2 hours and 10 minutes of refrigeration and hydration
Ingredients
100 gr. peanut butter (at room temperature)
75 gr. dates medjoul (boneless)
3 tablespoons water (hot)
25 gr. non-hydrogenated margarine
1 teaspoon vanilla essence
100 gr. black chocolate fondant without sugar
Instructions
Hydrate the dates by soaking them for 10 minutes. After this time, we drain them, put them in the glass of the blender next to the hot water and beat well until you get a smooth and homogeneous texture.
In a bowl, mix the peanut butter with the date candy we have prepared, the melted margarine and the vanilla, and mix stirring well with the help of a spatula or spoon.
When we have everything well mixed, we pass the mixture to a mold (or we are taking pieces of dough with a spoon, forming with hands balls of about 2 cm in diameter and passing them to a plate lined with tissue paper) and introduce it into the freezer for 1 hour.
We melt the chocolate in a bain-marie and, by batches, we take out the hearts of the mold that we have in the freezer to avoid that they soften excessively. With a fork, we submerge the hearts in the melted chocolate so that they are well covered, we eliminate the excess of chocolate giving a gentle tapping with the fork and we pass them to a plate covered with vegetable paper.
When we have all the hearts covered, we let them cool for 1 hour so that the chocolate solidifies and, after this time, we can serve them or keep them in the fridge so that they remain without melting until the moment of serving them.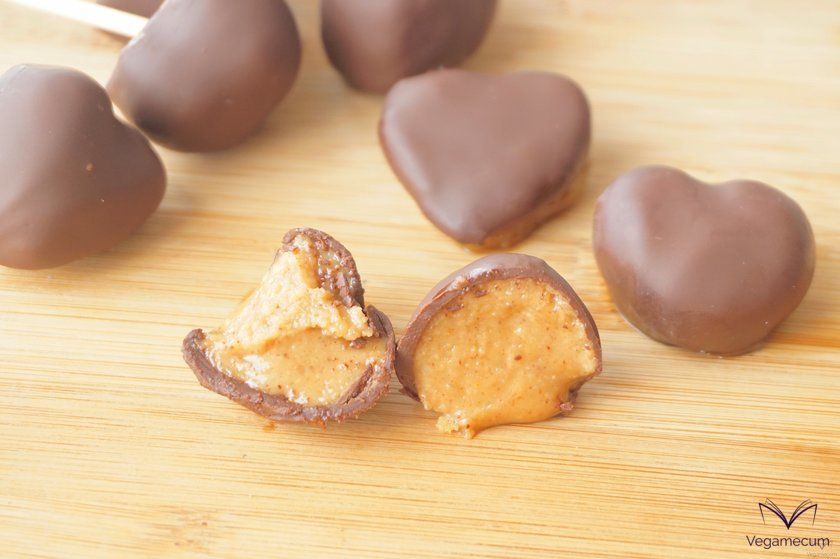 Notes
When selecting the vegetable margarine, look that it is not hydrogenated and that it does not contain palm oil or any ingredient of animal origin (eg, the olive margarine of the Flora brand has gelatin among its ingredients).
If you prefer, you can substitute margarine for coconut oil. You only have to add a pinch of salt.
At the time of bathing the chocolates, you can use chocolate fondant or dark chocolate, but fondant chocolate provides better coverage and more uniform.
If you have any questions, you can leave it to us in the comments. And if you dare and want to show your creations to the world, do not hesitate to label us, we will love to see them through the networks!
Do you join us on social networks? You will find us on Facebook, Twitter, Instagram and Pinterest!