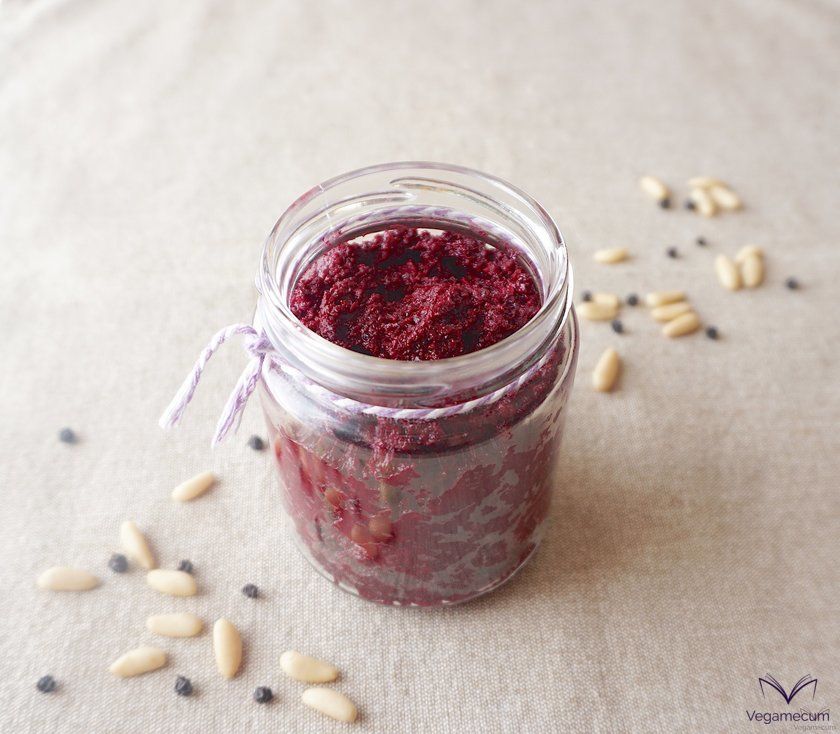 This beet pesto is a very striking sauce both at sight and taste, because thanks to the combination of its ingredients it has a very special flavor, where sweet, sour, salty notes and a slight bitter point are detected, all in perfect harmony.
The vivid color of the beetroot with that intense and characteristic tone between red and purple, gives this pesto an extra attraction, since in addition to generating a delicious contrast of flavors with the rest of the ingredients, it brings an original and distinguished touch to the accompanying dishes.
As we already mentioned in the recipes of pesto rosso and pesto broccoli , the pesto is a sauce whose name comes from the Genovese term 'pestare', which means "crush in a mortar", as traditionally prepared this sauce.
Beet pesto is rich in proteins , flavonoids , carbohydrates , omega 3 , omega 6 and omega 9 fatty acids ; beta carotene , fiber , alliin , vitamins A , C and group B ( B1 , B2 , B3 , B6 and B9 or folic acid ), calcium , copper , chromium , phosphorus , iron , lithium , magnesium , manganese , molybdenum , potassium , selenium , silicon , sodium , vanadium and zinc .
Below you can see what ingredients you need and the steps to follow in order to make a different and delicate pesto.
| | | |
| --- | --- | --- |
| Difficulty level | Preparation time | Rations |
| Very easy | 5 m. | For 300 grams |
Ingredients
250 gr. beet (cooked)
50 gr. pinion
2 cloves of garlic
2 spoons of nutritional yeast
2 tablespoons lemon juice
4 tablespoons extra virgin olive oil
1/2 teaspoon pepper
3/4 teaspoon salt
Instructions
Cut the cooked beets into pieces and put them in the glass of the chopper.
We add the rest of the ingredients and chop. When all the ingredients are well mixed and crushed and the sauce has an unctuous and homogeneous texture, we serve.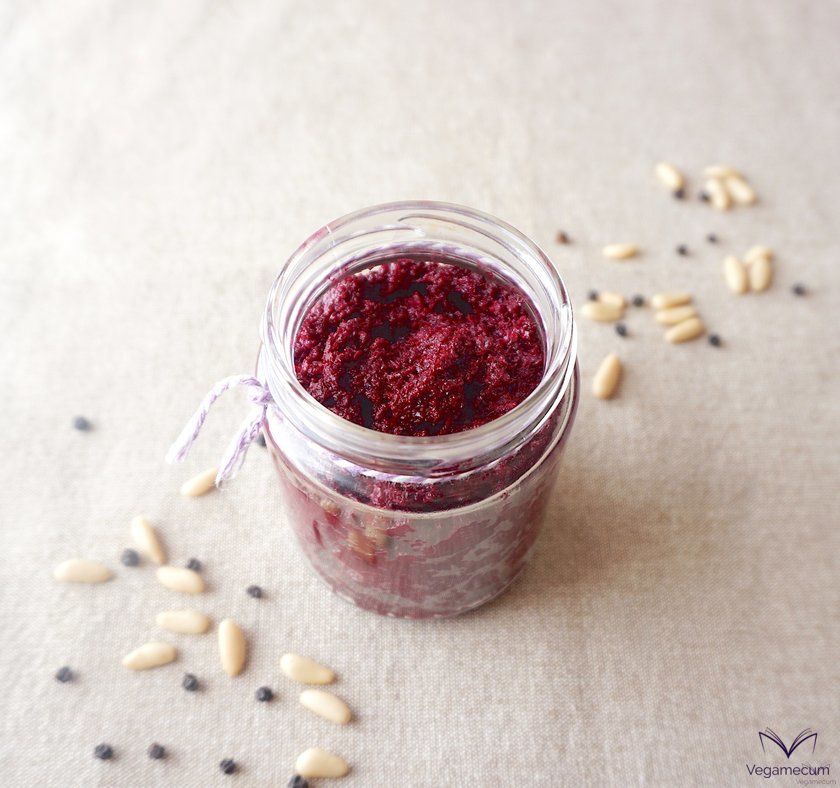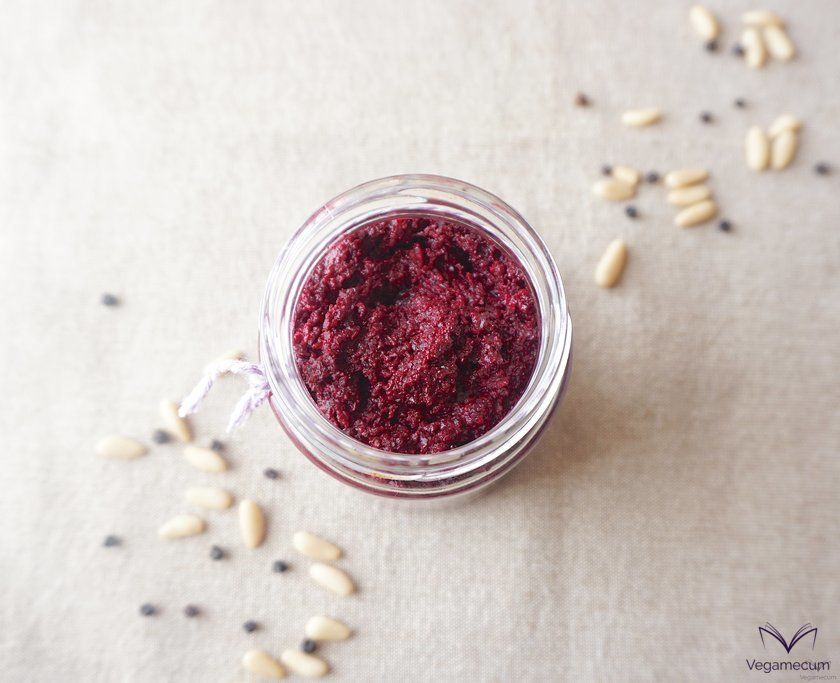 Notes
If you do not have pine nuts, you can replace these with cashews, pumpkin seeds or any other dried fruit that you prefer.
This pesto is perfect to serve with pasta, vegetable noodles (beet, zucchini, pumpkin, potato, sweet potato ...), as well as to serve as a dip, on canapés and in sandwiches.
At the time of serving you can sprinkle a little cashew parmesan above to create an even more delicious contrast.
If you have any questions, you can leave it to us in the comments. And if you dare and want to show your creations to the world, do not hesitate to label us, we will love to see them through the networks!
Do you join us on social networks? You will find us on Facebook, Twitter, Instagram and Pinterest!