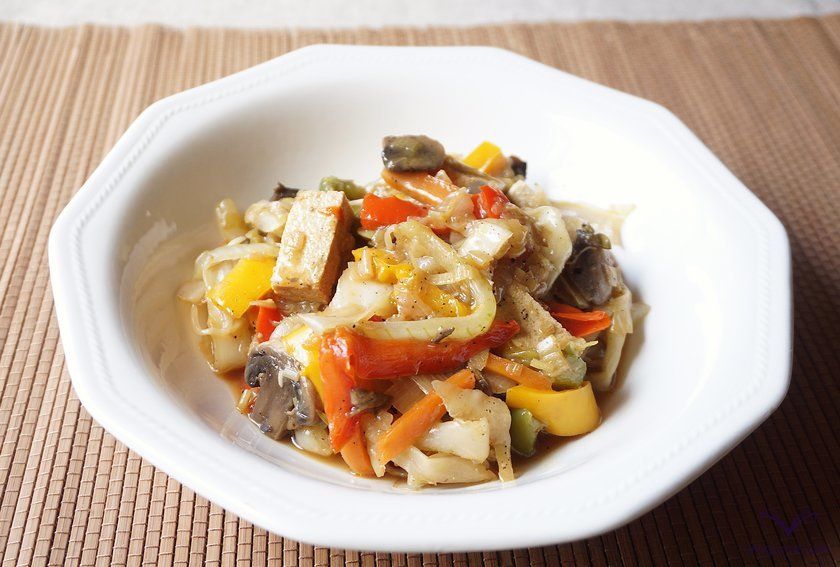 The Chop Suey is a legendary dish of Sino-American origin that the immigrants arrived from China created in the United States as an adaptation of the popular Cantonese dish 'Sap Kam' in order to conquer the American palates.
Since its creation in the late nineteenth century, this dish has been changing and evolving to reach our days with 100% vegetarian versions such as Chop Suey vegetable and tofu made with a rich and varied selection of vegetables and vegetable protein that make it especially tasty, especially when they are impregnated by the sauce, giving as a final result a dish with an exquisite and irresistible Asian flavor where the salty, sweet tones and with a delicious spicy point stand out.
Among its ingredients are the originally not included but already essential bean sprouts mung or mung, crispy germinated fresh and sweet flavor that are usually marketed as bean sprouts or sprouts of green soybeans.
At the time of serving, the chop suey combines great steamed or boiled rice, noodles or rice noodles, as the cereal provides texture and a touch of softness very delicate.
This recipe is rich in antioxidants , proteins , beta carotene , lycopene , fiber , allicin , alliin , flavonoids , carbohydrates , linolenic acid , curcumin , vitamins C , E , K and group B ( B1 , B2 , B3 , B6 and B9 or acid folic acid ), sulfur , boron , calcium , cobalt , chromium , phosphorus , iron , magnesium , manganese , potassium , selenium , silicon , sodium , potassium , iodine , zinc and, to a lesser extent, copper .
Below you can see what ingredients you need and the steps to follow in order to make the most emblematic dish of Cantonese cuisine.
| | | |
| --- | --- | --- |
| Difficulty level | Preparation time | Rations |
| Very easy | 20 m. | For 3 people |
* Plus 2 hours of maceration
Ingredients
1/2 red pepper
1/2 yellow pepper
1/2 green pepper
1 carrot
1/2 zucchini
1/2 onion
10 mushrooms
100 gr. white cabbage
1 Leek
100 gr. mung bean sprouts (bean sprouts)
2 cloves of garlic
1 tablespoon ginger (cool)
150 gr. tofu
1/4 teaspoon pepper
3/4 tablespoon extra virgin olive oil
6 tablespoons extra virgin olive oil
For the sauce
180 ml. vegetable broth
6 tablespoons salt
3 tablespoons sherry vinegar
4 teaspoons sugar
1/4 teaspoon pepper
3 tablespoons corn starch
Instructions
In a saucepan, heat the vegetable broth over medium heat and, when it is about to boil, turn off the heat. Add the rest of the ingredients for the sauce and stir with some rods until they are all well integrated.
In a bowl, remove 1/3 of the total sauce, cut the tofu into cubes and put it to macerate for 2 hours. We reserve the rest of the sauce.
We wash the vegetables and dry them. Remove the pips from the peppers and cut them into strips next to the carrot, zucchini, onion and cabbage. Cut the leek into slices and laminate the mushrooms. In addition we chop garlic and ginger.
In a frying pan, heat the oil over medium heat and, when it is warm, add the chopped garlic and ginger and let it be done for 1 minute.
We toss the vegetables and mushrooms that we have cut and sauté about 7 minutes more.
When the vegetables are soft, we stir the sauce with the rods and toss it into the pan together with the washed sprouts and the tofu and stir well with great care so that the latter does not fall apart. We let it be done for 5 more minutes and, after this time, we put out the fire and serve.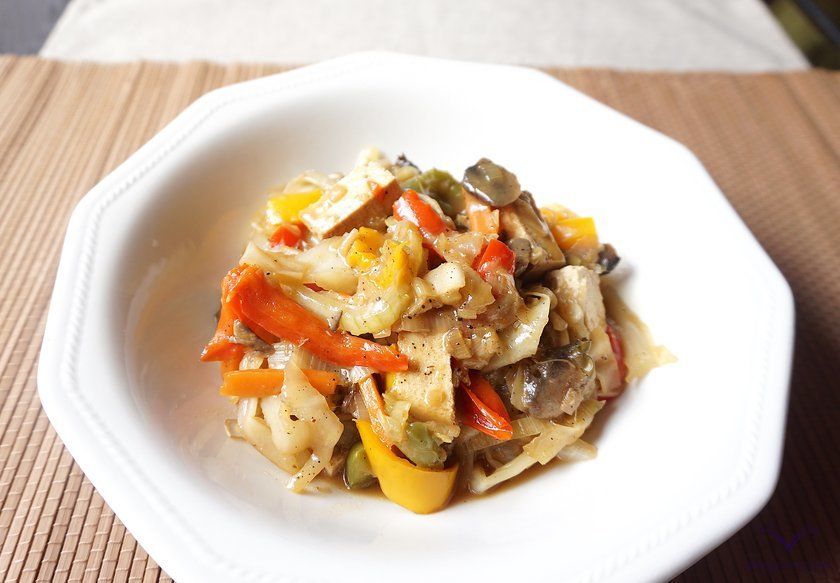 Notes
If you prefer, you can replace the tofu with a seitan with a mild flavor or with a thick textured soy sauce.
You can use both tamari soy sauce and shoyu soy sauce, the only difference is that the tamari does not contain gluten and its flavor is somewhat more intense.
The chop suey is an ideal dish to accompany it with boiled rice or, better yet, with steam; noodles or rice noodles.
If you have any questions, you can leave it to us in the comments. And if you dare and want to show your creations to the world, do not hesitate to label us, we will love to see them through the networks!
Do you join us on social networks? You will find us on Facebook, Twitter, Instagram and Pinterest!