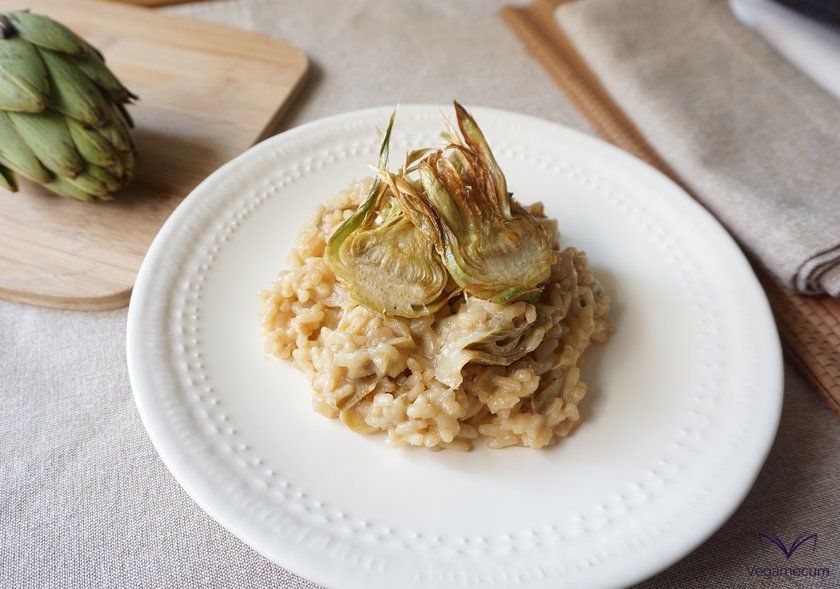 The risotto is one of those dishes that so well accept the diversity of ingredients in its preparation, allowing to add those highlights of the season in which we find ourselves. That's why in autumn we can enjoy this comforting risotto alla sicilianacon artichokes.
From this dish it stands out, thanks to its composition, its creamy texture and its fine flavor to delicate vegetable Parmesan, with a soft touch of white wine and the rustic and warm notes of the artichoke.
As we already mentioned in the recipe of risotto with shiitake mushrooms and mushrooms, the ideal and most important to obtain the best possible version of this risotto, is to choose a special rice for this type of preparations, such as the arborio and carnaroli varieties, the most recommendable porsumayor contained in starch and its ability to endure without overdoing it.
As for its nutritional properties, this risotto is rich in flavonoids , allicin, alliin , tryptophan , phytosterols , fiber , caffeoylquinic acid , dicaffeoylquinic , caffeic and ferulic ; carbohydrates , proteins , omega 6 and omega 9 fatty acids, vitamins C , E and group B ( B1 , B2 , B3 , B5 , B6 and B9 or folic acid ); sulfur , calcium , copper , chromium , phosphorus , iron , lithium , magnesium , manganese , molybdenum , potassium , selenium , sodium , vanadium and zinc .
Below you can see what ingredients you need and the steps to follow in order to make this delicious and autumnal recipe.
| | | |
| --- | --- | --- |
| Difficulty level | Preparation time | Rations |
| Half | 1 h. | For 3 people |
Ingredients
300 gr. rice (Arborio variety)
3 artichokes
2 garlic cloves
1 red onion
50 ml. white wine
1 vegetable stock cube
1 y 1/4 l. water
4 tablespoons extra virgin olive oil
1/2 lemon
1 teaspoon salt
1 tablespoon non-hydrogenated margarine
Instructions
Wash the artichokes and remove the outermost leaves, leaving only the hearts. Sprinkle them with a little lemon juice so they do not rust.
When all the artichokes are clean and prepared, put them in a saucepan with water and boil them for 10 minutes with the rest of the lemon. After this time, take them out and put them to drain. Set aside.
Peel the garlic cloves and onion and chop finely to make a sauce.
In a saucepan, put to heat the water with the vegetable stock cube, when it breaks to boil and the stock cube has dissolved, remove from the heat and set aside.
In a paella, put to heat the oil and, when it is warm, add the onion and garlic and cook for 5 minutes over medium heat, until they are poached. Meanwhile, cut the artichokes into quarters.
After this time, add the rice and stir to mix with the sauté. Next, add the artichokes and salt, stir well and let cook for 2 minutes.
Add the wine, stir again and let cook for a couple more minutes so that the alcohol evaporates.
Heat the broth again on low heat, put a ladle of it to the paella stir constantly. When the broth is being absorbed, add another ladle of broth and stir again. Repeat this step until all the broth is poured, at which point the rice will be already cooked.
Once cooked the rice, remove from the heat and add margarine and cashew parmesan. Stir carefully and serve.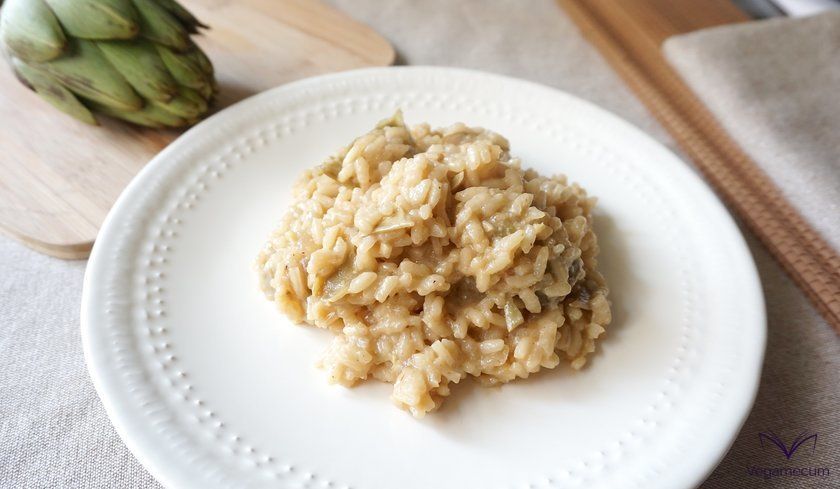 Notes
The ideal rice for this recipe is arborio rice or carnaroli rice, since they are the types of rice with the highest starch content.
When selecting the vegetable margarine, see that it is not hydrogenated and that it does not contain palm oil or any ingredient of animal origin (eg, the olive margarine of the Flora brand has gelatin among its ingredients).
It is important that when reheating the broth to add it to the rice, keep it on a minimum heat so that when you put it on the paella, the rice does not stop cooking.
When serving this risotto, you can decorate it with a couple of slices of artichoke fried in plenty of oil and well drained.
If you have any questions, you can leave it to us in the comments. And if you dare and want to show your creations to the world, do not hesitate to label us, we will love to see them through the networks!
Do you join us on social networks? You will find us on Facebook, Twitter, Instagram and Pinterest!