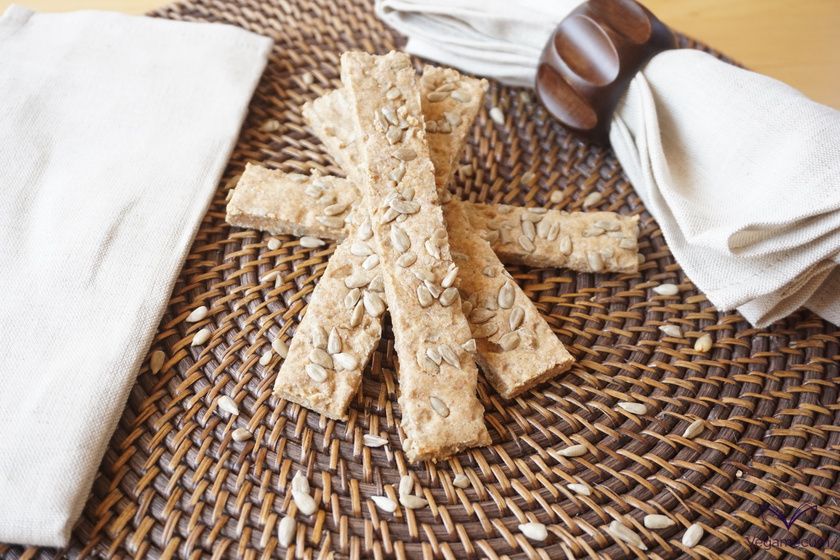 This whole grain sunflower seed bread is a healthy and natural snack, ideal to consume and enjoy at any time and occasion.
Made with whole wheat flour, olive oil, sunflower seeds and just the right amount of salt, these artisan bars are baked until they achieve a semi-crisp texture and a toasted flavor that makes them absolutely delicious.
This sunflower seed bread provides us with nutrients such as essential amino acids , carbohydrates , lecithin , omega 3 , omega 6 and omega 9 fatty acids , fiber , vitamins E and group B ( B1 , B2 and B3 ), calcium , phosphorus , iron , magnesium and potassium .
Below you can see what ingredients you need and the steps to follow in order to make a super easy snack that you will never have enough of.
| | | |
| --- | --- | --- |
| Difficulty level | Preparation time | Rations |
| Easy | 30 m. | For 15 units |
Ingredients
300 gr. whole wheat flour
100 ml. water
25 ml. extra virgin olive oil
1 teaspoon salt
15 ml. maple syrup
10 gr. baking powder
75 gr. sunflower seeds
Instructions
In a wide bowl, add the flour (sifting it), the baking powder, the salt and 2/3 of the total of the sunflower seeds. Mix well.
Add the oil, the syrup and the water and knead until all the ingredients are well integrated.
Put the dough in a smooth and clean surface, continue kneading a little more until obtaining a homogeneous dough and form a ball.
Preheat the oven to 200º. Meanwhile, place the dough on vegetable paper and roll it out with the help of a rolling pin until it is well rolled out and with a thickness of about 5 mm., approximately.
Spread the rest of the sunflower seeds uniformly over the dough, add a little salt and roll out again so that the sunflower seeds and the salt are well adhered.
Place the vegetable paper with the dough on a baking tray and cut the dough into 2 cm wide and 10 cm. long portions. When all them are cut, put the tray in the oven and bake for 12 minutes. After this time, remove the sunflower seed bread from the oven, wait for it to cool down and serve.
Notes
The flour is always better to sift it when adding it to the bowl so that lumps do not form, but it is recommended that, once passed through the strainer, you add the bran of the whole flour that remains in it and mix well to not lose the nutrients of the whole grain.
If you don't have a rolling pin on hand, you can use a smooth, clean bottle to roll out the dough.
If you have any questions, you can leave it to us in the comments. And if you dare and want to show your creations to the world, do not hesitate to label us, we will love to see them through the networks!
Do you join us on social networks? You will find us on Facebook, Twitter, Instagram and Pinterest!