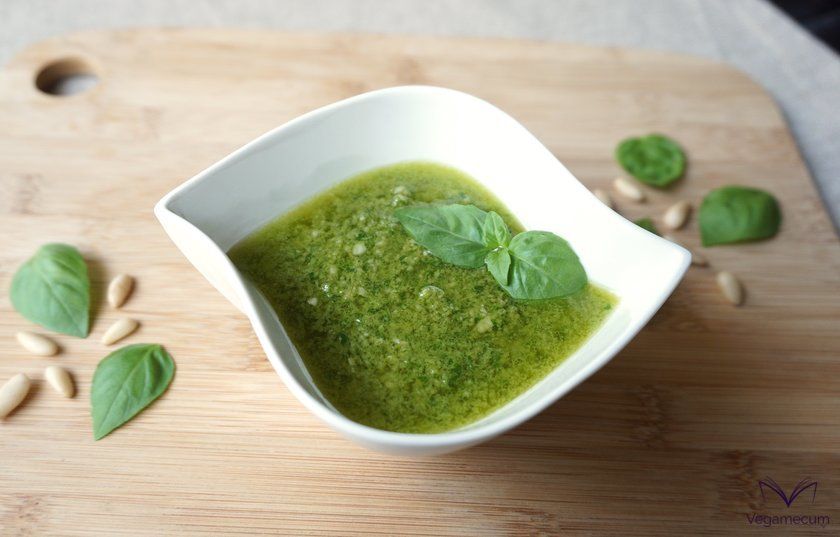 Pesto alla Genovese is the most popular pesto, also known as basil pesto. Its origin is found in the Italian region of Liguria, specifically, and as its name suggests, in Genoa.
It is for this reason that its name comes from the Genovese verb "pestare", which as we discussed in the recipes of pesto rosso , broccoli pesto and beet pesto , means "crush in a mortar", as this was the traditional way of set it up.
The aroma of this pesto is penetrating and unmistakable, since it is made with fresh basil leaves, essential ingredient to prepare this classic. The delicious fragrance of its ingredients, its intense flavor and its creamy texture, made this sauce soon expand through the sea routes that frequented the Genoese merchants.
And it is the ideal seasoning to enhance pasta dishes, salads, baked potatoes, pizzas and bruschettas, as well as to season vegetable meats such as tofu or seitan.
This sauce is rich in protein , fiber , beta carotene , flavonoids , alliin , essential oils , caffeic and rosmarinic acids, omega 3 , omega 6 and omega 9 fatty acids , vitamins C , E and group B ( B1 , B2 , B3 , B6 and B9 or folic acid ), calcium , copper , chromium , phosphorus , iron , lithium , magnesium , manganese , molybdenum , potassium , selenium and zinc . In addition, it is free of lactose, cholesterol, saturated fats and trans fats.
Below you can see what ingredients you need and the steps to follow in order to make one of the most famous sauces in the world.
| | | |
| --- | --- | --- |
| Difficulty level | Preparation time | Rations |
| Very easy | 5 m. | For 120 grams |
Ingredients
10 gr. fresh basil
30 gr. pinion
1 clove of garlic (small)
70 ml. extra virgin olive oil
2 spoons of nutritional yeast
1/2 teaspoon salt
Instructions
We put all the ingredients in the blender glass, beat until all the ingredients are ground and well blended and served.
Notes
If you do not have pine nuts, you can replace them with cashews or almonds.
We recommend that you do not trituréis the ingredients in excess so that the texture has more body.
If you have any questions, you can leave it to us in the comments. And if you dare and want to show your creations to the world, do not hesitate to label us, we will love to see them through the networks!
Do you join us on social networks? You will find us on Facebook, Twitter, Instagram and Pinterest!