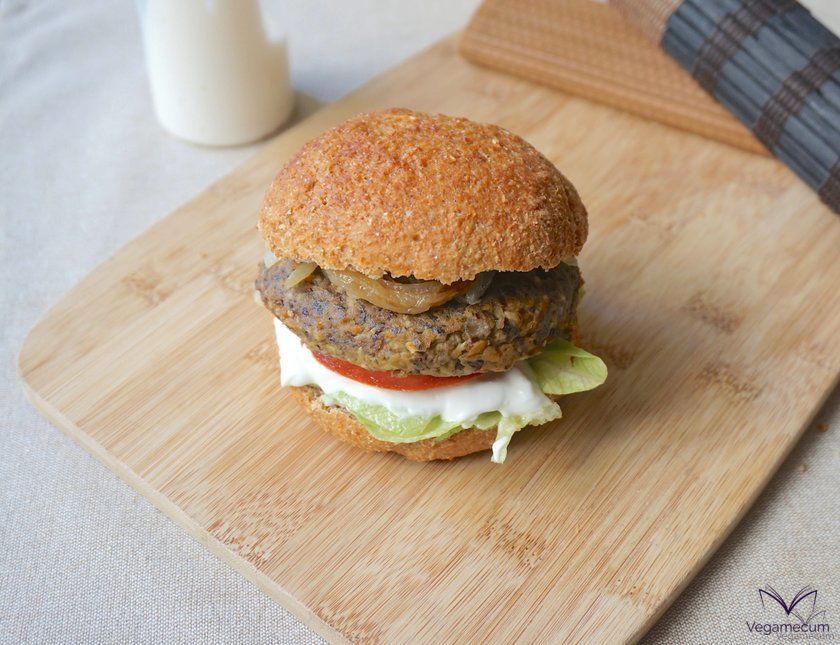 These 100% vegetable black bean and Portobello mushroom burgers have an intense and delicious taste of the most addictive.
As we have already mentioned in other vegetable hamburger recipes (such as Vegan Tofu, Zucchini and Pepper Burgers, Vegan Lentil, Soy and Carrot Burgers , Vegan Oriental Burgers, Chickpea Burgers, Dried Tomato and Basil Burgers or black beans and beets ), vegan burgers are very versatile and amazing, whether they are eaten alone or accompanied by a tender homemade hamburger bun , side dish and our favorite sauce.
These hamburgers in particular, in addition to being very rich in protein and fiber, are very tasty, have a delicious and juicy texture and are gluten-free, so people with celiac disease or gluten intolerance or allergy can also enjoy they.
These hamburgers are very rich in flavonoids , tryptophan , beta-carotene , proteins , phytosterols , allicin , alliin , fiber , omega 6 essential fatty acids, carbohydrates , vitamins C , E , K and group B ( B1 , B2 , B3 , B5 , B6 and B9 or folic acid ); Sulfur , calcium , copper , phosphorus , iron , magnesium , manganese , potassium , selenium , sodium and zinc .
Below you can see what ingredients you need and the steps to follow to make some veggie burgers full of flavor and absolutely irresistible.
| | | |
| --- | --- | --- |
| Difficulty level | Preparation time | Rations |
| Easy | 1 h. | For 5 units |
* More 1 hour and 30 minutes of rest
Ingredients
240 gr. cooked black beans
250 gr. portobello mushroom
50 gr. raw cashew nuts
1 carrot
1 red onion
1 garlic clove
50 gr. rice flour
50 ml. white wine
1 teaspoon oregano
1 teaspoon salt
1/2 teaspoon cumin (ground)
20 gr. potato starch
4 tablespoons extra virgin olive oil
Instructions
Grate the onion and garlic and set aside.
Wash the carrot, peel it and grate it. Set aside.
Wash the mushrooms, drain them, cut them into slices and set aside.
Heat the oil in a pan over medium heat and, when it is warm, add the onion and garlic and let poach for 5 minutes.
Next, add the carrot and cook for 5 more minutes. After this time, when the carrot is soft, add the mushrooms and cook until they release all the water and it evaporates.
When the water has evaporated, add the beans, salt, oregano and cumin and stir well to mix well all the ingredients. Add the wine and let cook for 5 minutes. After this time, remove from the fire.
We pass the content of the pan to a bowl, add the cashews and crush a little with the blender, until obtaining a uniform but not too thin dough. Let it temper (approximately 30 minutes).
When the dough is warm, add the rice flour and the potato starch and mix with your hands so that they integrate well. Cover the bowl with a clean cotton cloth and put it in the fridge for 1 hour so that the dough takes consistency.
When the dough has taken consistency, take portions of dough and form the hamburgers. Put a little oil in a pan and cook them for 2 minutes on each side. When all the hamburgers are made, serve them.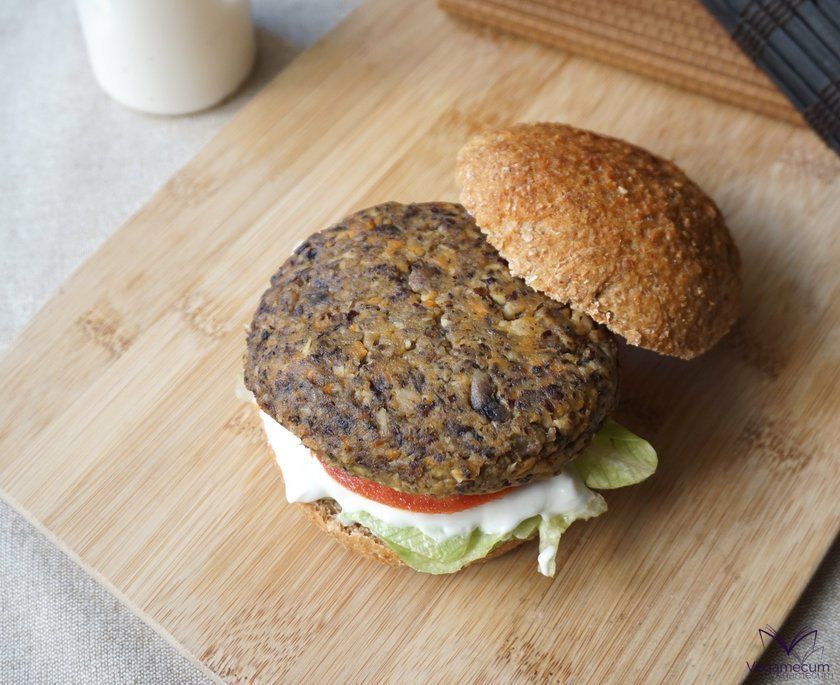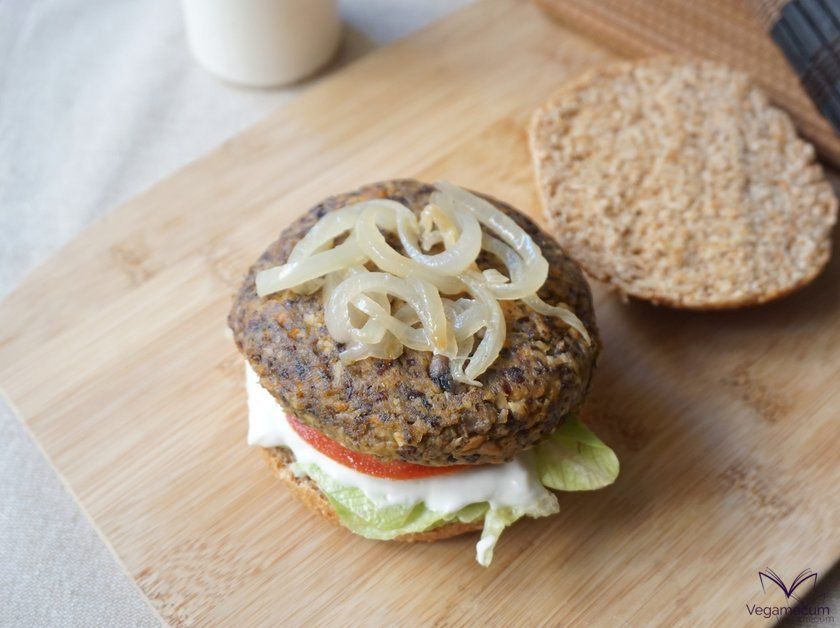 Notes
If you use packaged cooked beans, we recommend you wash them beforehand in a strainer under the tap and let them drain well.
If you have any questions, you can leave it to us in the comments. And if you dare and want to show your creations to the world, do not hesitate to label us, we will love to see them through the networks!
Do you join us on social networks? You will find us on Facebook, Twitter, Instagram and Pinterest!