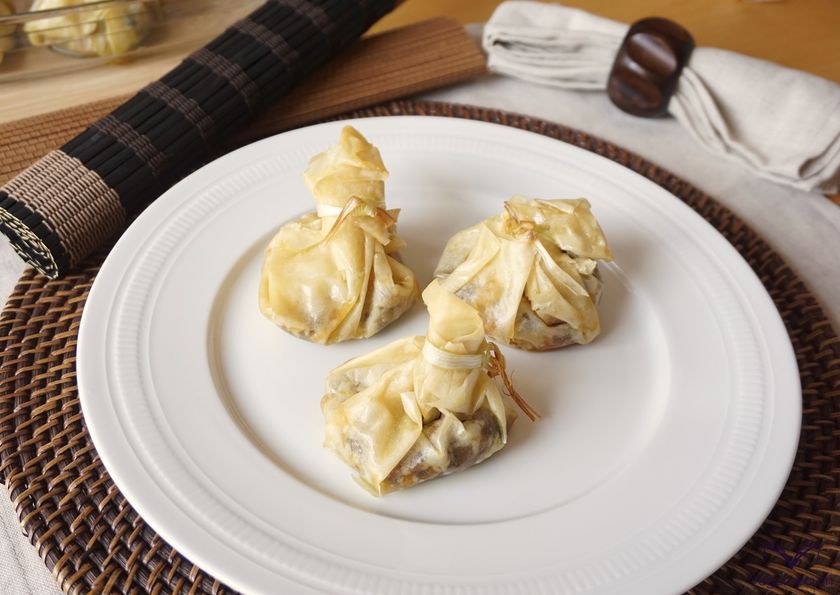 These stuffed sachets are crunchy on the outside and with a mellow and very tasty filling that stands out for the delicious combination of flavors that form the vegetable blood sausage together with the sweet point of the tender roasted apple.
Due to its delicate characteristics, this is an ideal recipe to enjoy its unique warm notes in special days, because despite how easy they are to prepare, they provide the table and the menu with an original, eye-catching touch with an exquisite and refined flavor. .
Regarding their nutritional properties, these sachets are rich in proteins, fiber, flavonoids, allicin, alliin, malic acid, carbohydrates, terpenoids , omega 3 and omega 6 fatty acids, vitamins A, C, E, K and group B ( B1, B2, B3, B5, B6 and B9 or folic acid ); sulfur, calcium, copper, phosphorus, iron, magnesium, manganese, potassium, selenium, sodium and zinc.
Below you can see what ingredients you need and the steps to follow to prepare an attractive starter that captivates all the senses.
| | | |
| --- | --- | --- |
| Difficulty level | Preparation time | Rations |
| Easy | 45 m. | For 6 units |
Ingredients
5 phyllo dough sheets
1/2 apple (big)
1 onion (small)
30 gr. pine nut
1 pinch of salt
1/4 teaspoon pepper (ground)
2 tablespoons extra virgin olive oil
1 leek leaf (the white part, to close the bags)
water (to stick the phyllo dough sheets)
Instructions
Peel the onion, cut it into small cubes and set aside.
Wash the apple, peel it and cut it into small cubes as well. Set aside.
Put the oil to heat in a pan and, when it is warm, add the onion and let it cook over low heat for 5 minutes.
Next add the apple and pine nuts and let everything cook for 5 more minutes.
After this time, add the crumbled blood sausage, stir everything and cook for another 5 minutes. After this time, remove from the fire and set aside.
Wash the leek sheet, dry it and cut it into thin strips (about 4 or 5 mm.) that will be used to tie the sachets. Set aside.
Spread out the sheets of phyllo dough on a smooth and clean surface, cut each sheet into 4 pieces and form 6 squares of 3 layers each (2 pieces will remain), brush each of the layers with a little water so that they are well adhered each.
Place a tablespoon of filling in the center of each of the squares, take the four ends of the dough and put them together so that the filling does not come out. Twist the ends a little and tie the sachets with a strip of leek, making a bow or a knot.
Preheat the oven to 160ºC, place the sachets in a baking dish varnished with a little oil or on a baking tray covered with baking paper and brush them with a little oil. When the oven is hot, put the baking dish or tray in the oven and bake for 20 minutes, until lightly browned, taking care not to burn. When the sachets are lightly browned, remove from the oven and serve.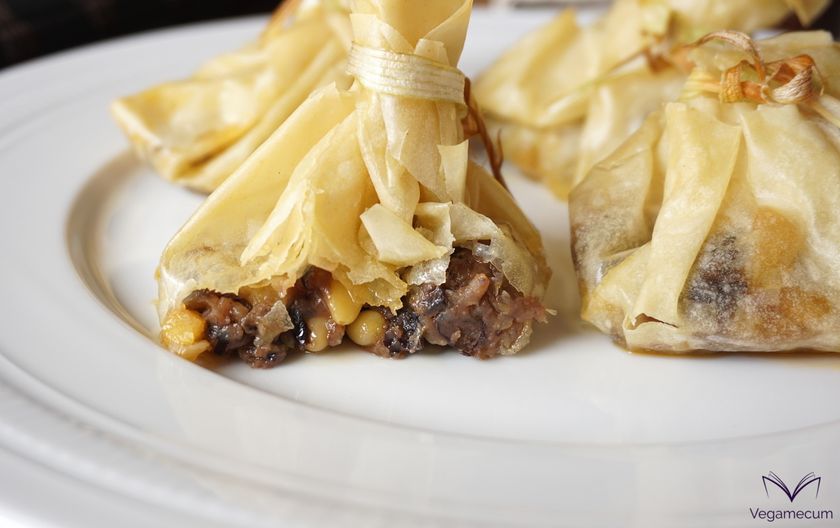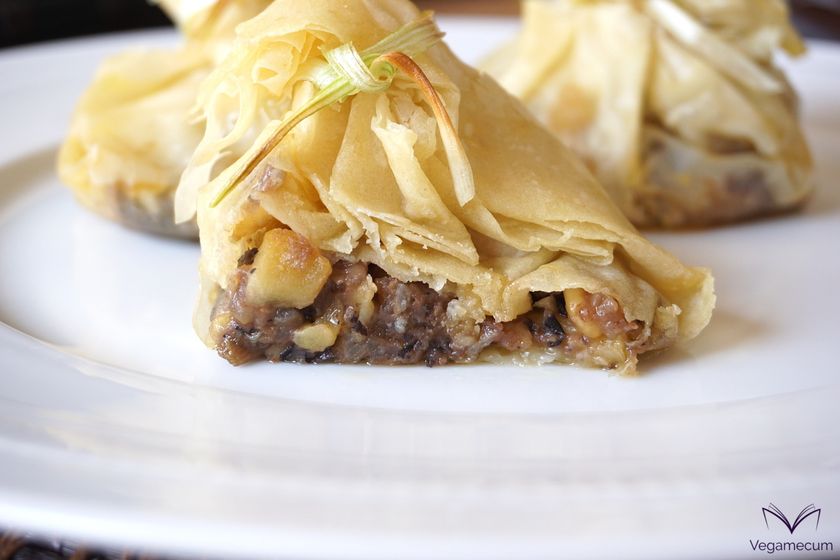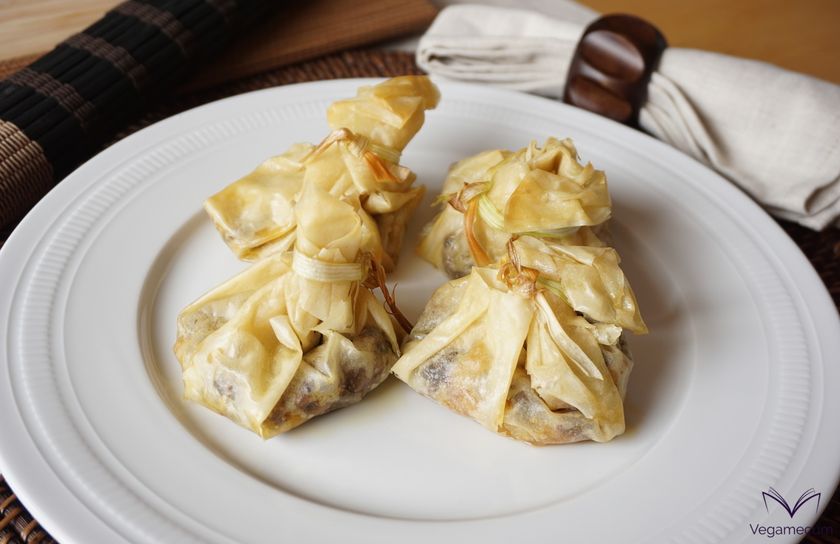 Notes
If you have any questions, you can leave it to us in the comments. And if you dare and want to show your creations to the world, do not hesitate to label us, we will love to see them through the networks!
Do you join us on social networks? You will find us on Facebook, Twitter, Instagram and Pinterest!