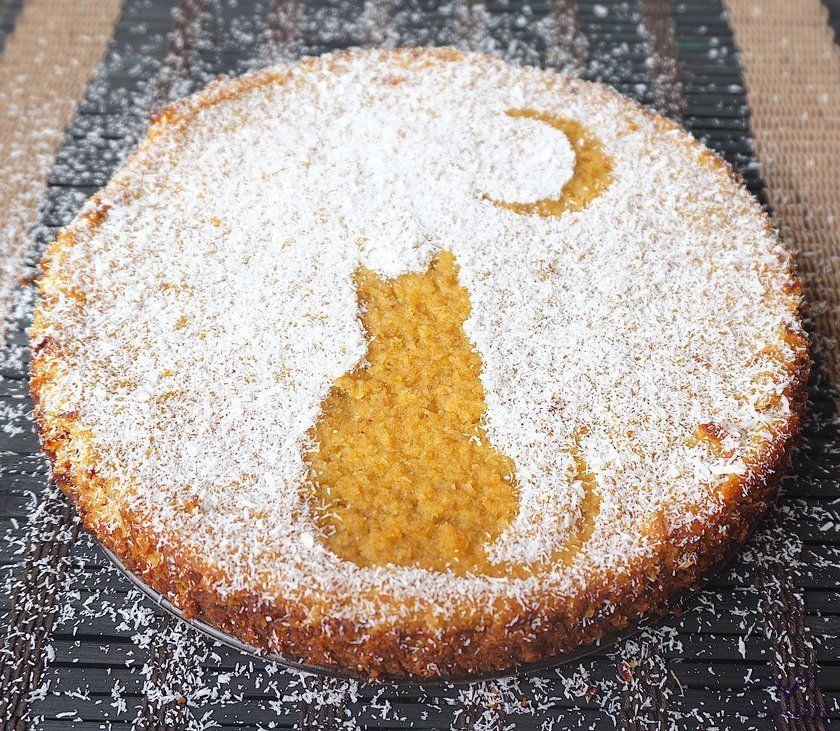 This pumpkin and coconut cake has a sweet flavor and a texture as juicy as it is irresistible. And the natural sweetness of the pumpkin, together with the soft notes of coconut, make this dessert one of the most addictive.
Apart from its impressive flavor and texture, another of the strengths of this cake is that it does not contain any type of flour, which makes it even healthier and also suitable for people with celiac disease or who do not consume gluten.
Thus, replacing the flours with ground almonds and using an ingredient as sweet and soft as pumpkin, we will obtain a dessert with an incredibly rich and delicate extra juiciness.
But the best thing about this candy is that it does not contain any eggs or dairy, since it is made only with ingredients of vegetable origin, so it is free of cholesterol, lactose and harmful fats. In this way we can enjoy their impressive taste without any remorse, because we will be giving a healthy whim with which in addition to our health, we will be protecting the animals and the environment.
As for its nutritional properties, this dessert is rich in carotenes , coumarins (antioxidants), lycopene , carbohydrates , proteins , fiber , vitamins of group B ( B1 , B2 , B3 , B5 , B6 and B9 or folic acid ), copper , chromium , phosphorus , potassium and selenium .
As instead of flours, it has almonds, this gives us extra doses of proteins and, in addition, phytosterols , omegas 3 , 6 and 9 , vitamins A , E and B7 , calcium , iron , magnesium and zinc .
Below you can see what ingredients you need and the steps to follow in order to make a sweet, tender and healthy dessert.
| | | |
| --- | --- | --- |
| Difficulty level | Preparation time | Rations |
| Easy | 1 h. | For 8 servings |
Ingredients
400 gr. pumpkin (without skin and without pipes)
100 gr. grated coconut
100 gr. ground almonds
120 gr. whole cane sugar
100 ml. extra virgin olive oil (Smooth flavor)
2 tablespoons flax seeds (ground)
6 tablespoons water
15 gr. chemical yeast
1 pinch of salt
grated coconut (optional, to decorate)
Instructions
In a pot, cook the pumpkin covered with water and let it be done for 20 minutes. When it is soft, we extinguish the fire and we put it to drain in a drainer.
In a small bowl, we toss the ground flax seeds, add the water, mix and let it rest for 10 minutes so that the mixture thickens.
In a bowl, put the pumpkin and crush well to form a kind of dense mash. Add the oil, mix, add the mixture of flax seeds and water and stir to integrate well with the pumpkin. Add the coconut, the almond flour, the sugar and the yeast, and stir again until all the ingredients are well combined and obtain a homogeneous mass. We reserve
Preheat the oven for 10 minutes with heat up and down to 175 º and, after this time, place the dough in a mold with the bottom covered with baking paper to prevent sticking, and bake for 25 minutes, watching that it does not burn . After this time, we make sure that the cake is well cooked by inserting a toothpick and checking that it comes out clean.
Take the cake out of the oven, let it cool down and, if desired, sprinkle a little grated coconut on top as a decoration to make it more colorful.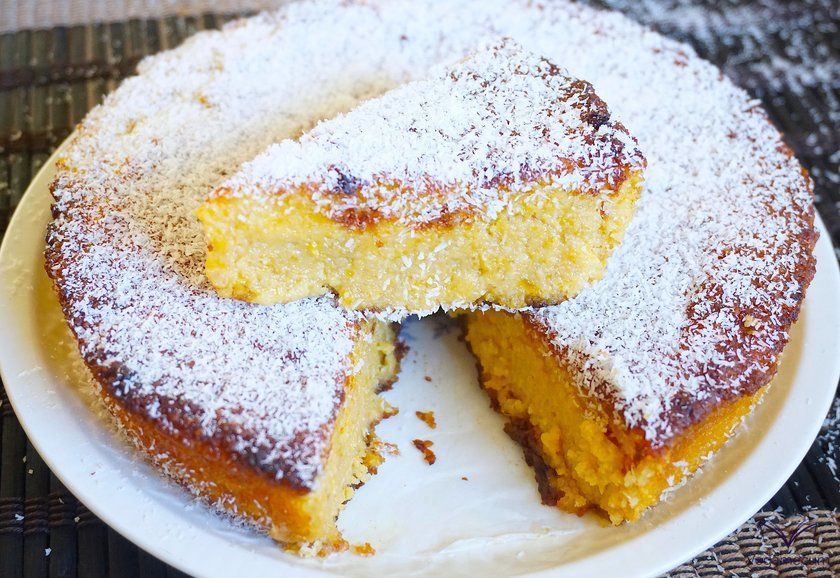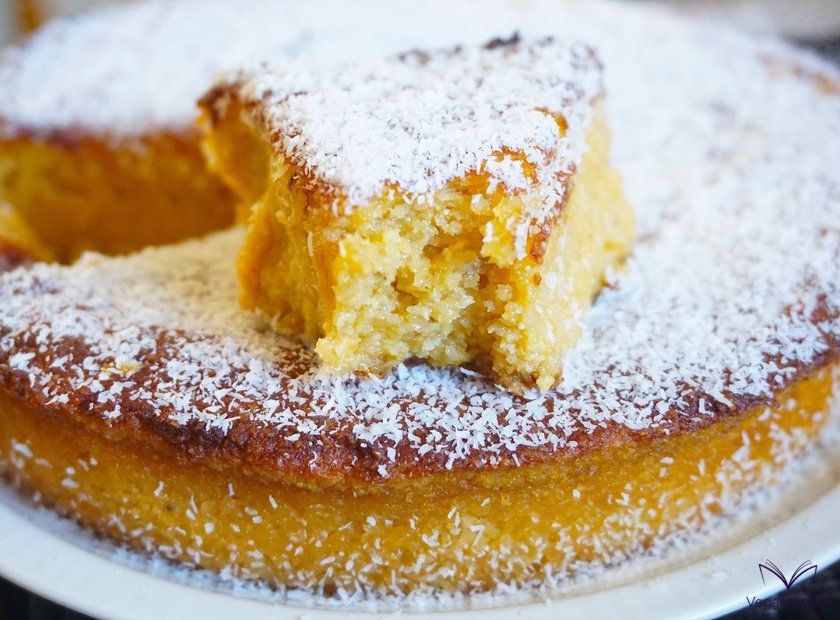 Notes
If you do not have almond flour, you can make it by grinding raw almonds in a grinder. You only have to grind handful to handful, and intermittently so as not to burn the engine, and repeat until the almonds have completely turned to dust, sifting if necessary.
If you want to make a sugar-free version of this cake, you can substitute the sugar for dates (adding about 50 grams more). Keep in mind that you will have to add a little more ground almond and a little more yeast so that the texture is light and does not cake.
If you prefer, instead of cooking the pumpkin, you can roast it in the oven. You only have to cover it or wrap it with kitchen paper and, with the oven preheated to 175º, bake it for 50 minutes.
If you see that after 15 minutes, the cake starts to brown, you can cover it with baking paper to prevent it from burning. And if after the baking time, you see that it is still too soft, you can bake it for 10 minutes more.
We have used a 22 cm mold. If you use a smaller mold, you will need a little more time for the cake to be well baked.
If you have any questions, you can leave it to us in the comments. And if you dare and want to show your creations to the world, do not hesitate to label us, we will love to see them through the networks!
Do you join us on social networks? You will find us on Facebook, Twitter, Instagram and Pinterest!