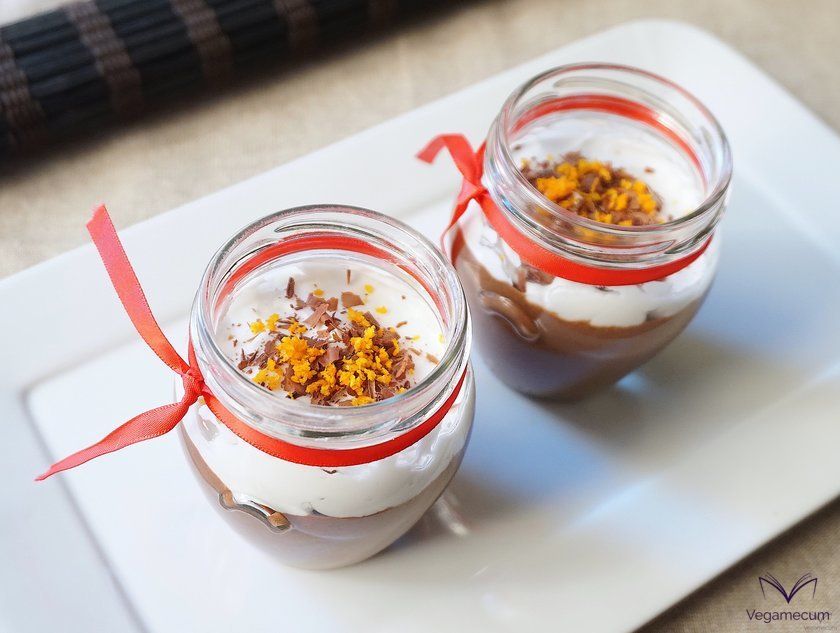 The mousse is a dessert of Gallic origin, whose main characteristic is its light and frothy texture. And is that its name in French means just that, foam , because its creamy base is formed by air bubbles that provide lightness and volume.
The first time that the recipe for this dessert is written is in Chef Menon's cookbook 'Les soupers de la cour', written in 1775. At that time, the texture of the mousse was a little different, as there was no the kitchen utensils that today make our lives much easier.
Thus, depending on how we make it (if using manual beating rods or electric rods), together with letting it cool more or less once it is finished, the result will be a more spongy or creamier mousse.
In the case of this particular mousse, its light velvety texture combines a delicate and enveloping flavor, where intense black chocolate merges with the aromatic and sublime notes of orange. If, in addition, we serve it with a topping based on vegetable whipped cream , grated dark chocolate and orange zest, we get an absolutely irresistible dessert, both in sight and taste.
Another highlight of this version, apart from its soft texture and sweet taste, is that, not carrying eggs, not only is cholesterol free, but does not require any type of cooking for its preparation or requires to be consumed immediately once prepared.
Below you can see what ingredients you need and the steps to follow in order to make an exquisite and very special dessert.
| | | |
| --- | --- | --- |
| Difficulty level | Preparation time | Rations |
| Medium | 45 m. | For 3 people |
* Plus 5 hours of refrigeration
Ingredients
200 gr. black chocolate fondant without sugar
150 ml. aquafaba
3 tablespoons icing sugar
skin zest of 1 orange
1 vanilla branch
Instructions
Take the aquafaba from the pot of chickpeas and pour it to a bowl. Cover it and put it in the fridge for 2 hours.
After this time, we split the chocolate into pieces, put it to heat in the water bath and stir. With a knife, we cut the vanilla branch superficially and longitudinally and, with the tip of the knife, we drag the vanilla seeds from one end of the pod to the other and add them to the chocolate. We continue stirring until we see that the chocolate has completely undone, making sure it does not burn. Once it has been discarded and has no lumps, turn off the fire, take out the bowl and reserve.
We took the aquafaba out of the fridge, we passed it to a large bowl and began to beat with some rods. We gradually integrate the sugar and continue beating for 15 minutes, until we see that it has taken a very spongy consistency, similar to meringue.
When the chocolate has cooled to room temperature, add the orange zest and stir until both ingredients are well integrated.
With the help of a spatula, little by little we pass the chocolate to the bowl where we have the aquafaba and stir carefully with enveloping movements until obtaining a homogeneous mixture, with delicacy so as not to spoil the aquafaba.
Once the ingredients are well mixed, we distribute the mousse in small glasses or jars and introduce them in the refrigerator for a minimum of 3 hours so that it takes good consistency.
After this time, we took them out of the fridge and served with a little vegetable whipped cream, a few shavings of dark chocolate and a bit of orange zest.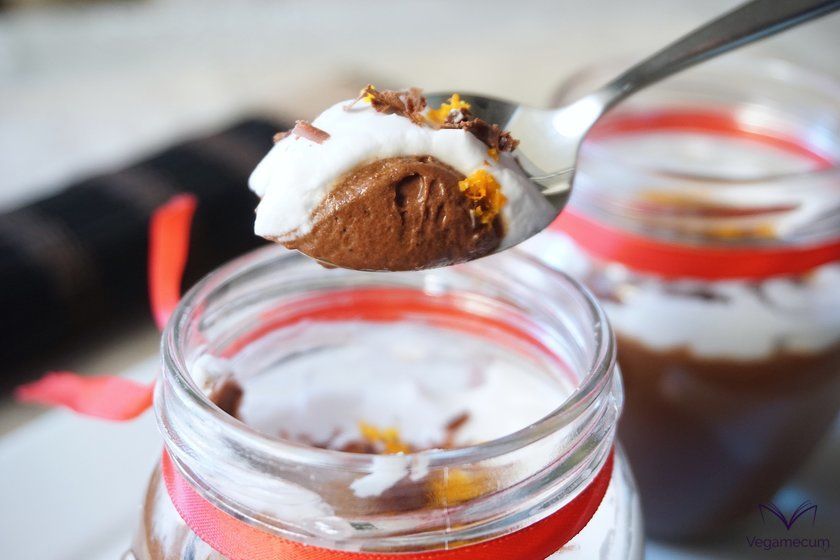 Notes
If you don't have icing sugar on hand, you can make it by simply using grain sugar or a mixture of 95% sugar - 5% corn starch, and grinding it in a coffee grinder. In this way you can make icing sugar using whole cane and panela sugar.
If you prefer, you can substitute the icing sugar for any other sweetener, you just have to make sure to add it to the aquafaba before the chocolate so that the final consistency is not affected.
We recommend you wash the oranges very well before grating them and that, if you can, use them ecologically.
At the time of mounting the aquafaba, we recommend that it has been in the refrigerator for at least 2 hours so that it is cold and takes less time to assemble and achieve the ideal texture.
To undo the chocolate in a bain-marie, you only have to put the chopped chocolate in a small bowl and put it in a pan with water, put it on the fire so that it melts and go stirring so that no hard pieces remain.
The time to obtain the snow point with the aquafaba will depend on which utensil you use to beat, since some manual beating rods may need to be twice as long as electric rods.
This mousse, besides being able to be consumed as such, is a very good option to fill cakes and sweets.
If you have any questions, you can leave it to us in the comments. And if you dare and want to show your creations to the world, do not hesitate to label us, we will love to see them through the networks!
Do you join us on social networks? You will find us on Facebook, Twitter, Instagram and Pinterest!